Trip Overview
The 18-days Everest Base Camp Trek via Gokyo Lakes trip takes adventurous trekkers to fabulous Gokyo Valley, source of grand Dudh Koshi River – the large Ngojumba Glacier, the famous Cho La pass, and the celebrated view points of Gokyo Ri and Kala Patthar along with Everest Base Camp – and obviously through the landmarks of Everest region in the company of majestically soaring mountains, friendly Sherpas, colorful monasteries and prayer flags, the Namche Bazzar, the Sagarmatha National Park, and many more. Gokyo, a hidden valley with gorgeous blue lakes in the lap of Himalaya has its own reputation among the adventurous souls. Many trekkers yearn to visit the Gokyo valley as a side trip during their Everest Base Camp Trek and they feel their Everest trek incomplete if they happen to miss the trip to Gokyo Valley, Gokyo Peak, and the famous pass, Cho La. The entire area is blessed with abounding natural beauty of shimmering Lakes. Beyond peace of mind at the tranquil appearance of the glacial Lakes, we can enjoy 360 degree panoramic views of four above 8000 m massifs and other mountain ranges from the best view point of Everest Region, the Gokyo Ri – because panorama from here is more spectacular than that from the Kala Patthar viewpoint.
Our Everest Base Camp Trek via Gokyo Lakes trek-18 days is graded as difficult and challenging trek suitable only for physically fit and experienced hikers who love the challenge. Passionate and experienced trekkers those are able to walk at least 6-7 hours a day with a light rucksack and have zeal to face challenge can sign up on this trek.
Itinerary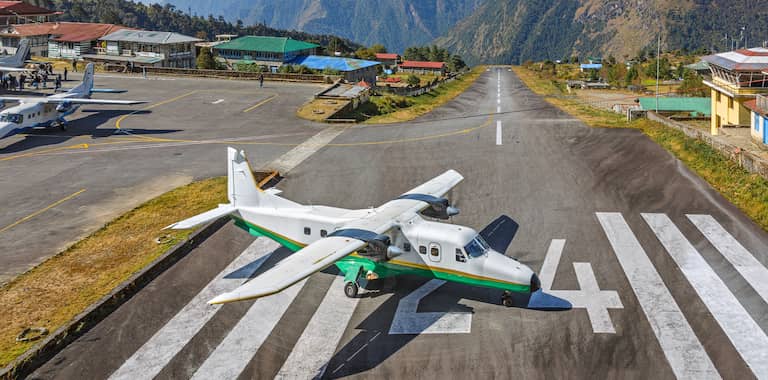 DAY 01: Arrive in Kathmandu (1300 m/4264 ft)
Welcome to Kathmandu, the capital and cultural hub of Nepal ! We'll be waiting with a warm greeting and easy transfer to your hotel. Plan on an evening briefing on last-minute specifics about your trek and an early lights-out: you have a big day ahead.
DAY 02: Kathmandu (1300 m/4264 ft):Sightseeing and Trek Preparation
Today after breakfast we will start a guided tour to several of the most historical and spiritual attractions in Kathmandu. Some of these landmarks are considered World Heritage Sites; including the historic Durbar Square, the sacred Hindu temple of Pashupati Nath, the famous 'Monkey Temple' (Swayambunath) and Buddhists shrine (Buddha Nath) which is one of the large Stupas in the world. In the afternoon, there will be a pre-trip discussion where we can meet our trek leader, other crew and other participants of this trek.Beauty Nepal Adventure briefs us regarding our trek as well as provides us opportunity to ask any questions we may have regarding our upcoming adventure. .
DAY 03: Kathmandu – Lukla (2,800 m/9,184 ft)- Phakding (2,652 m/8,700 ft): 3-4 hrs
Early morning, after breakfast we get transferred to domestic airport to fly to Lukla. After an adventurous 40 minute flight above breathtaking green and white mountains, we reach Tenzing-Hillary Airport at Lukla. This is one of the most beautiful air routes in the world culminating in a dramatic landing on a hillside surrounded by high mountains peaks. At the airport, we meet our other crew members. We get time to stroll around while the guide divides and manages baggage to be carried by porters. We start our trek through the prosperous village of Lukla until we reach Phakding. To assist in acclimatization, we only have a short hike today. However, if interested in additional activities we can take a side trip to a nearby monastery. Overnight in Phakding. 
DAY 04: Phakding -Namche Bazaar (3,440 m/11,283 ft) :-5-6 hrs
Trek starts in the morning after breakfast. The walk today is pleasant with few short uphill and downhill with multiple crossings over Dudh Koshi River and magnificent view of Mt. Thamserku (6,608m/21,675ft) from the Benkar village. We cross more bridges and reach entrance of Sagarmatha National Park at Monjo, where our trekking permits are checked in order to keep record of trekkers and local trekking staffs as well. A descend and a gradual walk brings us to Jorsale, the last village until Namche Bazaar. The walk is enjoyable through the river bed and we reach Hillary Suspension Bridge. Now, as we climb up hill towards Namche Bazzar, closer and magnificent sight of Kwangde Peak, its sister peaks, Kusum Kangaru, Mt. Everest, Lhotse, Tawache, and many other fabulous mountains are viewed closer, we stop at the Chautara here to admire the view. Finally, we reach the colorful village of Namche Bazzar, the main gateway of Khumbu region. Overnight in Namche Bazzar.
DAY 05: Namche Bazaar: Acclimatization Day
This is first scheduled 'acclimatization' day for this trek. Health experts always recommend us to stay active and moving during the rest day too instead of being idle. We either spend the day taking a day hike to Thame or visiting Khunde or carry out relaxed exploration of Namche Bazaar itself. Namche Bazzar is the main centre of the Everest (Khumbu) region and has government offices, ATMs, Internet cafes, shops, restaurants, a bakery and a colorful market each Friday evening and Saturday. If we trek a few hundred vertical feet during the day, it will help us to properly acclimatize. Our guides will take us to the Tourist Visitor Center near the headquarter of the Sagarmatha National Park where we can observe an assortment of things related to the first Everest ascenders, Sherpa culture and learn about the various plant and animal life of the Everest region. We also take an interesting side trip up to Khumjung and also climb up to famous airstrip at Syangboche. Just above the airstrip is the Everest View Hotel, a Japanese scheme to build a deluxe hotel with great views of the highest mountains on Earth. The Khumjung valley is surrounded by the snowy peaks of Kongde and Thamserku and the sacred peak Khumbila, hosts a well known monastery that houses a yeti scalp. We also visit Hillary School which is at the same site. After having lunch and spending some time in Khumjung, we walk back down to Namche Bazzar. Overnight in Namche Bazaar.
DAY 06: Namche Bazzar – Dole-(4,110 m/ 13,152 ft): 6-7 hrs
We climb steeply out of Namche Bazzar up to Kyangjuma Village from where, we can enjoy outstanding views of Thamserku, Katenga, and Ama Dablam. Most strenuous ascent of the day is obviously to pass the Mong La, a very charming place perched on the spur of Mt. Khumbila. An ancient historical Chorten stands at the centre of the settlement of Mong La. We stop at the top of Mong La to admire the grandstand views of surrounding snow-capped mountains and valleys while we have our lunch. The most outstanding feature of the trail today is the abundance of plant and animal vegetation including wildflowers and Rhododendrons. Spotting wild lives like pheasants, mountain goats, and the elusive musk deer while on the way is not unusual. Through forests, some water falls and bridges, we reach Dole; a small place with few teahouses. Overnight in Dole.
DAY 07: Dole – Machherma-(4,470 m/ 14,663 ft): 4-5 hrs
Firstly, we climb steadily up through a scenic ridge above the Dole and the trail climbs via Lhabarma at 4220m to Luza at 4360m. The path is steep in most places as we pass through thorny bushes up to Lhabarma. Offering us good views of Cho Oyu, Kantega, and Thamserku the trail takes us through many summer settlements and a charming hamlet of Luza (4360 m). While we ascend from Luza, the Dudh Koshi valley is deep like a canyon with its sheer sides. Walking along the hill side above thundering Dudkoshi passing through some small hamlets and through sandy spurs, we reach Machherma. Machherma is the last major settlement on the way up to Gokyo. The beautiful stream flowing down from the Kyajo Ri and Phari Lapche mountains runs through the middle of village before draining into the Dudh Koshi. It is the place where Khumbu people got first sighting of Yeti in 1974. We visit the Himalayan Rescue Hospital here for a lecture regarding the altitude sickness, its precaution, and primary treatment. Precaution regarding altitude sickness is vital while trekking in the high altitude region, however our guides are quite knowledgeable about this. Overnight in Machherma. (B,L,D)
DAY 08: Machherma – Gokyo (4800 m/15,744 ft): 4-5 hrs
Today, we climb through a ridge Chorten from where we can see fabulous view of both down the valley and of the Mt. Kangtega, Thamserku, and northern part to the Cho-Oyu (8153m). Beyond the ridge the valley widens as the trail passes through a Chorten and reaches Pangka (4480 m) after some gentle walk. Phangka is the palace where an avalanche in 1995 killed 40 people. We descend to the river bank before beginning to climb up to the terminal moraine of the Ngozamba Glacier. It is a steep climb on the moraine. After crossing an iron bridge over an stream the trial levels out as it follows the valley past the first lake, known as Longpongo at 4690m, where we get chance to observe the Lama footprints on a stone. At the sight of the second lake, Taboche Tsho we become mesmerized by the shimmering turquoise blue sheet of water sparkling in the sun. Little ahead of the second lake, we reach the third lake, the two linked by a surging stream. Gokyo village stands by the third lake and Cho-Oyu Mountain as a backdrop sets an amazing spectacular sight here. After lunch, we explore around the third Lakes, Dudh Pokhari. We spend night in a teahouse with comfortable bedrooms. Overnight in Gokyo.
DAY 09: Gokyo Valley:Acclimatization Day–optional hike to 5th and 6th Lakes
Today is full day rest or an acclimatization day but we know we should not stay idle. If the weather is good, we grasp the opportunity to climb Gokyo Ri today instead of next day to enjoy the scene from the best viewpoint of Everest Region. Or, as we know Gokyo is not only popular for its grand view from Gokyo Peak but also for the six lakes which it hosts. Definitely we would not miss the chance to observe the fourth lake (Thonak Tsho) and fifth lake (Ngozuma Tsho). About 3 km north of Gokyo is the fourth lake with its high cliffs and peaks rising above it. The trail continues to fifth lake. If interested, we climb on a hill at the edge of the Lakes to get astounding views of Cho-Oyu, Gyachung Kang, Everest, Lhotse, Nuptse, and Makulu. We can see a lot more from here – the spot is called Scoundrel's Viewpoint. Beyond the fifth Lakes is the Cho Oyu Base Camp. Scenery here is breathtaking with Cho Oyu and Gyachung Kang seeming just a stone's throw away. Northern part of the fifth lake provides fabulous views of Cho-Oyu Base Camp and biggest glacier of the world- the Ngazumpa glacier. Moved by the charm, we may even try to go sixth lake too but depends upon our own interest and time. Back to Gokyo village. Overnight at Gokyo. 
DAY 10: Hike – Gokyo Ri (5357 m/17,570 ft) – Thaknak (4750 m/15,580 ft):4-5 hrs
If Gokyo Ri has not been done the day before we do this today. Gokyo Ri is the highlight of this trip. Early morning, we hike up to the Gokyo Ri (Gokyo Peak). Climb to Gokyo Ri is obviously strenuous as it is steep up and takes about 3 to 4 hours to reach the top, but even from the trial scenery of Gokyo village on the edge of third lake overlooked by Cholatse and the broad Nogzumpa Glacier are mind blowing. We feel like we are surrounded by panoramic mountains like Kusum Kanguru, Thamserku, K 43, Kangtega, Taboche, Cholatse, Makalu, Lhotse, Nuptse, Everest, Changtse, and Pumori. Sight of sunrays kissing the Everest that towers over all surrounding peaks is unlike from Kala Patthar (from Kala Patthar Nuptse seems taller). Our Gokyo Ri visit will be unforgettable life time memories. We trek down to Gokyo and after breakfast we trek to Thaknak for overnight being by the second Lakes and the Ngozumba Glacier. Overnight in Thaknak.
DAY 11: Thaknak – Cho-la Pass (5367 m/17,604 ft) – Dzongla (4830 m /15939 ft): 7-8 hrs
Cho La Pass is also another show up of this trip. Today is the toughest day and we need to start early (4-6 am) compared to other days on the trip. The pass is not itself difficult but it is steep and involves a glacier traverse on the eastern side. We need to be careful as the trail is vertical and the rocks glazed by ice add trouble to the trekkers making the trail slippery. Our trail climbs through a ravine and a rocky trail we climb up continuously up from Phedi. Trek through the side of a frozen lake while we come to the top of the pass decorated with prayer flags. The pyramidal Ama Dablam presides over a range of mountains on the south even as Cholatse soar on the west and Lobuche East and Baruntse rises sharply to our right. We need to pass through some crevasses before we reach Dzongla, another beautiful place with a complete view of Mt. Cholatse, Mt. Ama Dablam, Lobuche peak and the Pheriche village far below. Overnight at a very basic local lodge. 
DAY 12: Dzongla to Lobuche (4940 m/16,207 ft): 2-3 hrs
Today's walk will be a bit shorter. Thus we would get more time to observe and relax. We climb down from Dzongla and after crossing a bridge and transverse through grassy trail. Enjoying the view of Lobuche Peak we stretch up eventually through a ridge. Ama Dablam, Kangtega, Thamserku Taboche are seen looming prominently. Curving round through the wide gravelly river bed, we reach Lobuche. Overnight in Lobuche. 
DAY 13: Lobuche – Gorak Shep [5170 m/16,961ft] – Everest Base Camp [5364 m/17,594 ft] – Gorak Shep 8-9 hrs
The trail to Gorak Shep goes ahead through the lateral moraine of the Khumbu Glacier. We pass though the pyramid sign post. Ahead on the trail we see crest of north ridge of Everest along with Mt. Pumori, Mahalangur, Lingtern, Khumbutse, Nuptse, etc. A small ascent would take us to Thangma Riju from where we perceive 360 degree vista of snowy mountains. Climbing steeply up to the top through the torrent of Changri glacier, we catch our first glimpse of Kala Patthar, a grey-green knoll beneath the Mt. Pumori. As we reach Gorak Shep, we will be surrounded by snow-capped mountains looming all around us including the top of the world – Mount Everest. After a brief lunch and rest, we take the trail to Everest Base Camp through the once vast Gorak Shep Lake. Continuing straight ahead, we come through the Indian army mountaineers' memorials. As we reach Everest Base Camp we cannot stop ourselves from appreciating the Everest climbers those take the hazardous route through the Khumbu icefall. Mountaineer's tents stand out in bright colors against all the dull gray surroundings (especially in the Spring). Nuptse, Khumbuste and Pumori are the mountains we can view from base camp. Everest actually is not visible from here. By now we have met the ultimate objective of our trip.
However, the sunset view from Kala Patthar is more admirable than the sunrise view, so it is suggested to visit Kala Patthar today during sunset. As the setting sun's rays strike the snow capped mountains the resulting scenery is indescribable. For those trekkers who wish to continue to Kala Patthar, our guides and Sherpas coordinate your hike to Kala Patthar for amazing sunset view today rather than waiting until the next day. Overnight in Gorak Shep at a local lodge. 
DAY 14: Gorak Shep – Kala Patthar – Pheriche [4280 m/14,070 ft]:8-9 hrs
Today is the climax of our trip. We start early in the morning to catch the dramatic views from Kala Patthar witnessing the first light of day shining on Mount Everest. However, we need to get prepared for an early morning, dark and cold temperature (-10 to -14 C) departure beforehand. Plus there is always the potential for chilly winds which are quite common. Familiar peaks such as Lingtren, Khumbutse, Changtse tower to the east even as Everest begins to reveal itself emerging between the west shoulder crest and Nuptse. During the ascent to Kala Patthar we can pause to catch our breath at several outstanding view points to snap pictures. After several hours of an ascent, we reach Kala Patthar. From here we scramble to climb the rocky outcrop near to the summit marked by cairns and prayer flags. As we reach the top, we sit on the Kala Patthar rocks our eyes taking in the unbelievable Himalayan Panorama, wandering from one mighty massif to another. We take as many pictures as we can with our camera and take the in view with our mind's eye to last lifetime. On being back to Gorak Shep, we have breakfast and wait other participants to return back.
Those participants who plan to visit Everest base camp today will have early breakfast to start early as Everest base camp hike takes longer time (4-5 hrs) than the Kala Patthar hike. Upon return back to Gorak Shep, the group will have lunch together; and afternoon time is taken to descend down to Pheriche for a good night's rest. 
DAY 15: Pheriche-Pangboche-Tengboche-Namche Bazzar (3,440 m/11,280 ft): 5-6 hrs
Today is much easier walk down to the lower altitudes. Following the same route back to the terminal moraines at Dughla and the wide valley of Khumbu Khola, we pass through the beautiful Sherpa villages of Pheriche, Orsho, and Shomare. We might take a different trail to visit the Gompa in Upper Pangboche or take the regular trial to reach Pangboche. From Pangboche we retrace our footsteps down to the Imja Khola and up through the forest to Debuche or if interested, we might visit nuns at the Debuche monastery. If we are trekking during the full moon of November or December, we might get and opportunity to witness the Mani Rimdu festival in the monastery at Tengboche. After having lunch at Tengboche, we continuing through the hillside blanketed by rhododendron and juniper trees. If it's spring, the surrounding adored by pink and red rhododendron flowers is dazzling. We either have our lunch in Pangboche or wait until we reach Phunki Tenga. After crossing the prayer flag festooned bridge over the Dudh Koshi River, trail then follows the Dudh Koshi gorge descending rapidly through the pine forests. The path eventually reaches Sansa. We keep a lookout for wild life such as mountain goats, snow leopards, colorful pheasants, etc., while we pass through the forest by the trail. After passing a Chorten, we reach the army camp at of Namche Bazaar. We want to take a long last look (and picture!) back to Lhotse, the tip of Everest and Tengboche from here. On reaching our lodge, we take a nice hot shower and have very relaxed sleep in our room in Namche Bazaar. Overnight in Namche Bazaar. 
DAY 16: Namche Bazaar-Lukla 6-8 hrs
The trail descends steeply downward so we need to walk slowly and under control as our shaky legs continuously battle the rocky terrain. After crossing the suspension bridges over the fast flowing Dudh Koshi and its tributaries the trail becomes more level and natural. By today we start to get warmed up by the light breeze. Any remaining sore throats and colds will be gone by today as we pass through this charming mountain air. Although we are travelling the same route down, we feel completely different views. We snap a mixture of open plains, rhododendron and pine forests, and in the distance snow covered peaks. We walk through the Sherpa villages' noticing impressive faith in Buddhism and culture of prayer stones and prayers flag while we walk through the villages. On arrival in Lukla, we stretch those sore legs and recall the experiences of the last couple of weeks. We experience the culmination of a fantastic trek on a happy note with everyone back safe and sound with smile on their faces! Overnight in Lukla.
DAY 17: Fly back to Kathmandu
Flights to Kathmandu are usually scheduled for morning because wind can create problem to fly the aircraft in the afternoon but sometime the flight time can be delayed due to bad weather and other reason that are beyond our command. We fly back to Kathmandu after our long mountain journey. The early morning flight drops us at Kathmandu. You can rest and relax throughout the day in your hotel. If get interested to take some gifts home from Nepal for friends and relatives, visit to some nearby shops or venture out in Thamel for typical Nepalese goods which can be assisted by our guides or you can do it yourself too. If you want to explore any other areas of Kathmandu take the time to do that today! Remember, we will be hosting a fantastic celebration dinner together for successfully completing your trek to Everest Base Camp Trek! Overnight in Kathmandu.
DAY 18: Final Departure
It's your last day in Nepal! Grab some breakfast, and then take in some last-minute shopping in Kathmandu. We'll make sure you arrive at Kathmandu International Airport with plenty time before your flight home. At this time, we'll say our goodbyes and bid you farewell, armed with warm memories and gorgeous photos to show your loved ones.
For this time : END OF OUR SERVICES !
Namaste !
Trip Includes
All airport/hotel transfers
3 nights Hotel in Kathmandu with breakfast
14 nights in standard guest house/lodges in mountain
Welcome and farewell dinner
All accommodation and meals during the trek
Three times meal a day during the trek
Breakfast,Lunch & dinner on during the trek
Private Land Transport for both way trek start and trek Ending Point
An experienced English-speaking trek leader (trekking guide )
One Experience & strong Porters service ( 1 porter between 2 people )
Sleeping bag from Beauty Nepal Adventure ( Sleeping bag are to be returned after trip completion)
Including their salary,equipment, transport,food ,lodging ,Insurance etc
A comprehensive medical kit for Nepali staff
All necessary paper work and permits
Everest National Park Permit
( TIMS Card ) Trekking Information Management System Card
Farewell diner in evening at tricycle Nepali restaurant
Government Tax,Vat etc
Trip Excludes
Nepal Visa fee (bring accurate USD cash and two passport photographs)
International airfare to and from Kathmandu
Excess baggage charges
Extra night accommodation/s in Kathmandu because of early arrival, late departure, early return from the mountain(due to any reason) than the scheduled itinerary
Lunch and Dinner in Kathmandu
Travel and rescue insurance
Personal expenses (phone calls, laundry, bar bills, battery recharge, extra porters, bottle or boiled water, shower etc)
Tips for guides and porters
Online Booking
*Please Fill Up The Form Given Below As Complete As Possible And Hit On Submit Button*
.