Trip Overview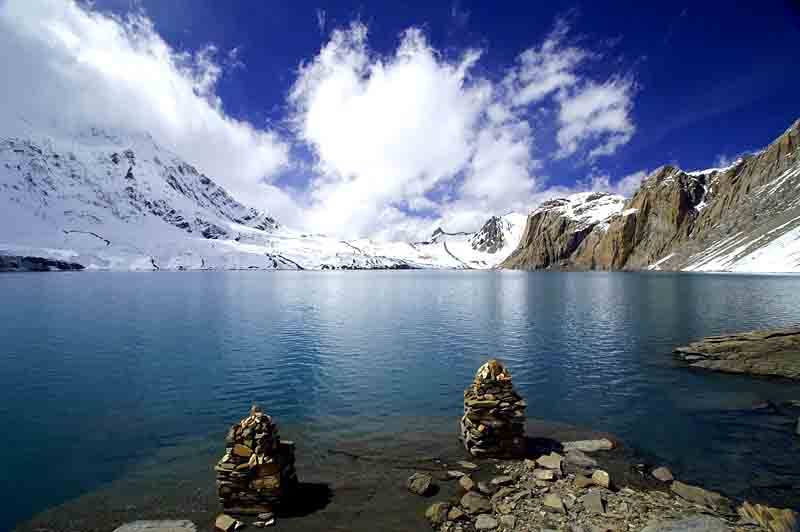 In the Annapurna range of the Central Nepal Himalaya lies Tilicho Tal (lake), at 4,919m one of the highest of its size in the world. Stretching about 2.5mi / 4km long and about 0.6mi / 1km wide, it lies at the foot of the 23,400′ / 7,134m summit of the same name, north of the Grande Barriere a 10km / 6mi long wall of rock, ice and snow. We soon leave the lodges on the main trail to head up toward Tilicho Tal. These high Himalayan reaches are the habitat of the Himalayan tahr (mountain goat) and the snow leopard, among other mammals. From our camp by the shores of the lake, we climb up to the Mesokanto La (pass, 16,730′ / 5,100m) where we are rewarded with the first views of the Kali Gandaki valley. We descend to stay at the charming Thakali village of Marpha. Here on we follow the Kali Gandaki upstream to Kagbeni, and up a side valley to the shrine at Muktinath, sacred to Hindu and Buddhist pilgrims alike. The trip ends in Jomsom with an early morning flight to Pokhara. This is a splendid summer trek, as rewarding as it is challenging. The Tilicho lake trek is among the finest serious Nepal treks best experienced in the Monsoon.
Tilicho Lake is one of those places that has had next to mythic connotations. Many regard it as the highest lake in the world. It was for long almost totally closed save for a few climbers and expeditions, and since 1974, when Nixon changed the China policy, part of the area above Thini on the Jomosom side became a totally off-limits military area. From the Manang side it was rarely if ever visited.A much sold guide book informed potential trekkers that the path to Tilicho was "a figment of some ones fantasy" and the locals in Manang had little knowledge of the route too, and were often thought to be Slightly unfriendly as they were known for not being particularly keen on working as human beasts of burden for various expeditions that had passed. When asked to porter they had simply refused! Manang is no ordinary village. Its people are heavily involved in international trade, due to passport privileges granted in the past.
Trip Information -Tilicho Pass Trekking Trip Highlights
Trekking Duration: 1 days
Starting from: Beshi Sahar
Best Season: Feb,Mar,Apr,May – Sep,Oct,Nov
Ending at: Pokhara/ Jomsom to Kathmandu by flight/Bus
Grade: Moderate to Strenuous.
Highest access of the trek: 5099 meters Tilicho Pass.
Culture: Mixed culture based on Gurung ,Thakali & Magar
Mode of trekking tour: Tea House and Camping trek.
Himalayan sights: Lamjung Himal, Annapurna (I,II,III,IV), Machhapuchhre Himal, Manaslu Himal, Dhawalagiri range, Tilicho peak, Tibetan ranges
Splendid breathtaking place: High mountain pass, great Himalayan view, popular hot Spring along the route, etc
.